Today we're going to talk about the dreaded thesis statement. A lot of students find the prospect of writing a thesis statement to be very daunting, because it's sometimes hard for students to understand just what a thesis statement is. But once you do understand the very simple definition of a thesis it's actually not that hard to come up with one. It comes down to a question of what you're trying to argue.
When you have a paper and you're trying to come up with a thesis statement, ask yourself: What am I trying to prove here?
What do all I want my audience, what do I want my reader, to believe when they are finished reading this paper?
Your thesis statement is simply a statement of what you're trying to prove. When you answer that question of what am I trying to show, you also have your answer of what should my thesis statement be. If you want a more precise definition, a thesis statement is a concise arguable summary of what your papers about; it's going to be supported by the evidence in your paper, and usually it's located at the very end of the introduction.
Let's break that down a little bit.
What is a thesis statement?
A thesis statement, first of all, is concise. That means that typically it's only one sentence long.
It's a compression of your whole argument into one simple statement.
Which means that you're not using all of your support, you're just saying what you're setting out to prove.
Concise, arguable summary of what your paper is about
It's also arguable; that means that it is not just a statement of what's going to be in your paper, but it's a statement of what you're going to prove in your paper.
This means that the state is going to be somewhat contentious; you can debate back and forth whether or not you believe that this is true.
For example, you could have a thesis that is just, I love puppies. I just really love puppies! That wouldn't be a particularly good thesis because it's hard to really make that into a contentious argument.
You love puppies; there's no way that I'm going to be able to disprove that no matter how much I love kittens.
A more contentious and more interesting thesis statement would be, I love puppies so much, that everyone should be given a puppy on taxpayer dollar.
That's a little bit more contentious; there's more debate they can take place there about whether or not the cost of giving everyone a puppy is really worth the potential benefits of that. It's not a particularly good argument, but it is a good thesis.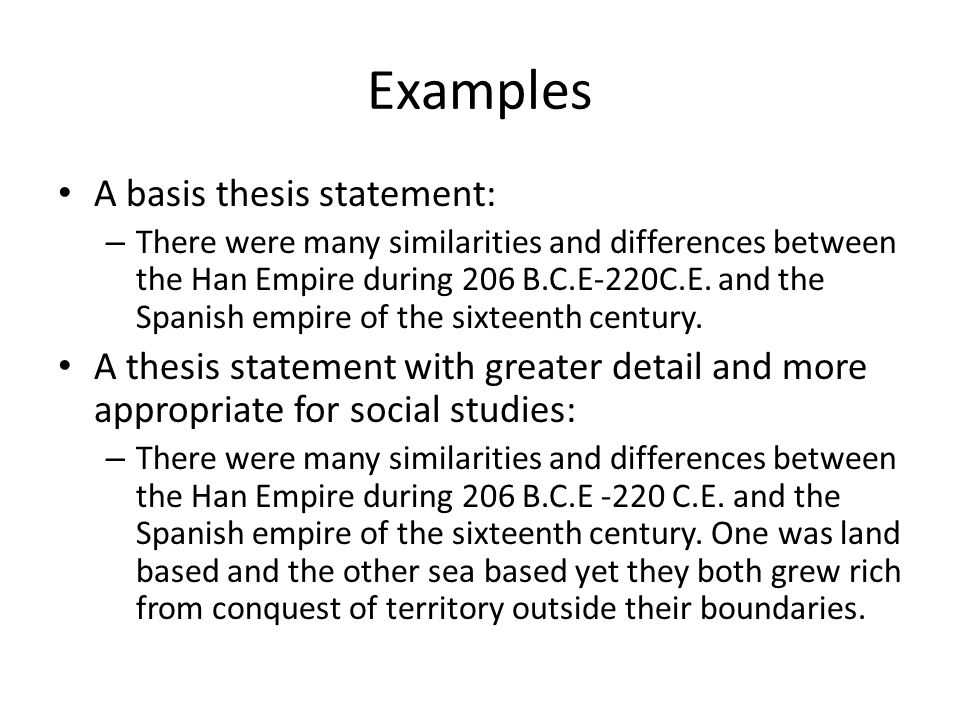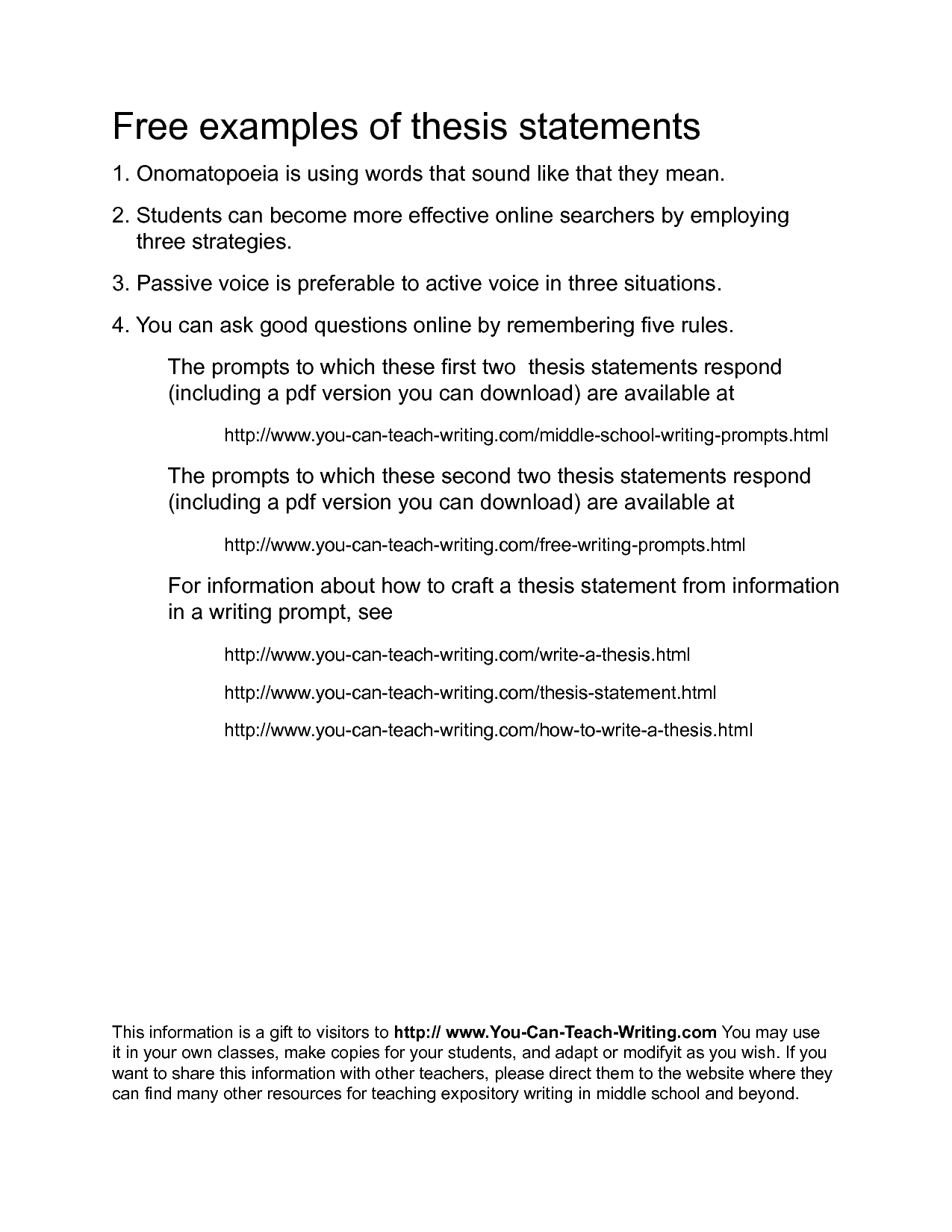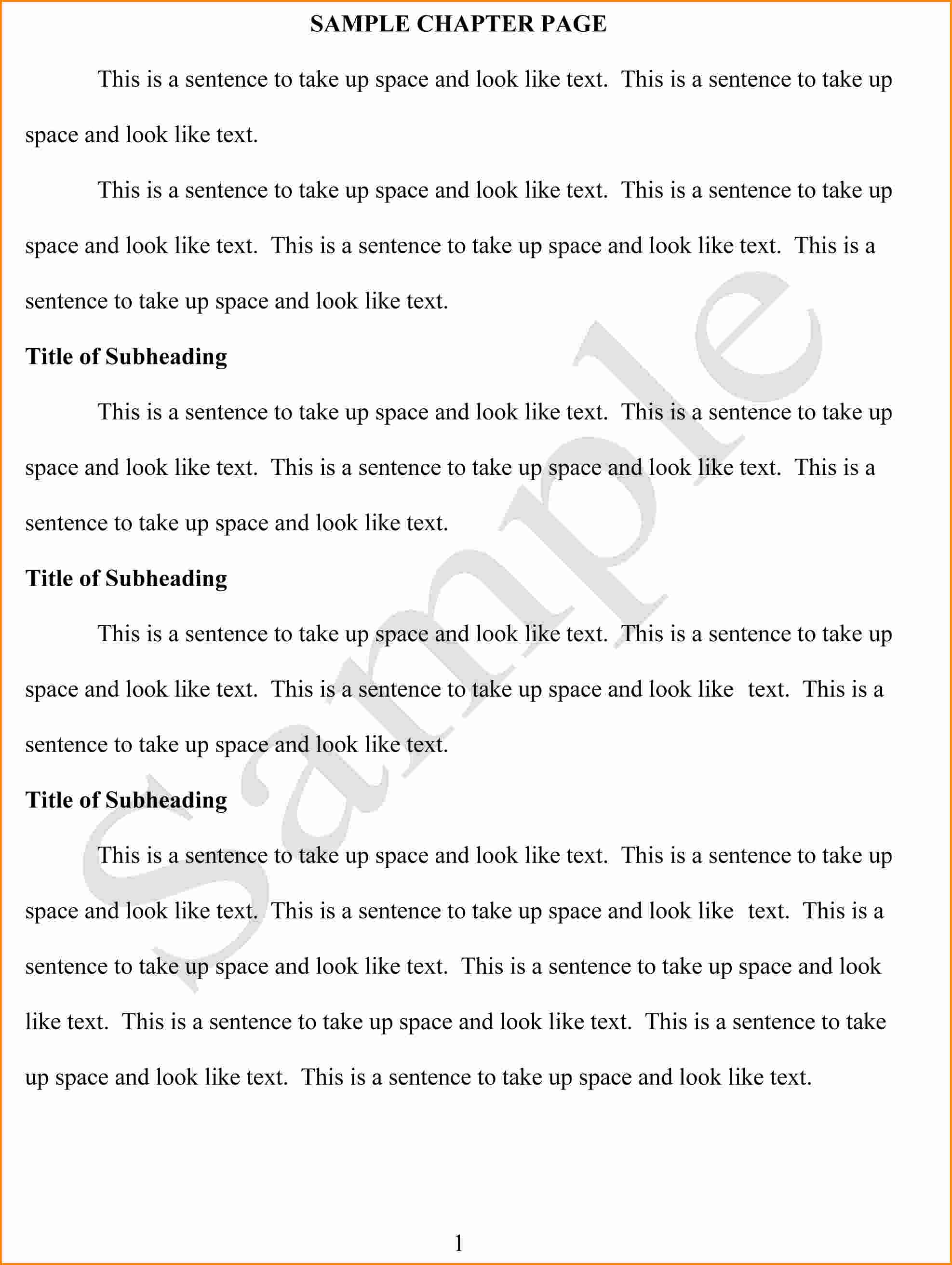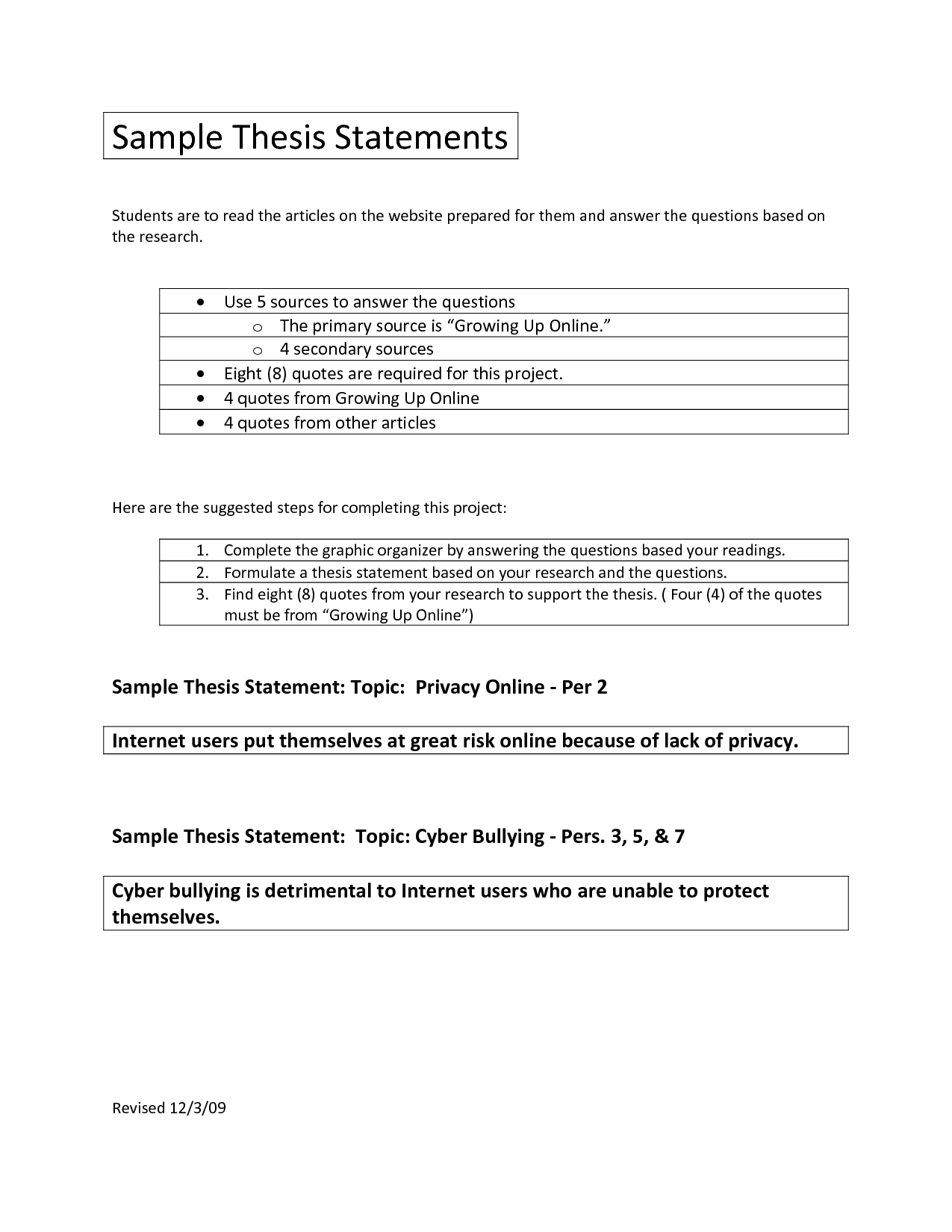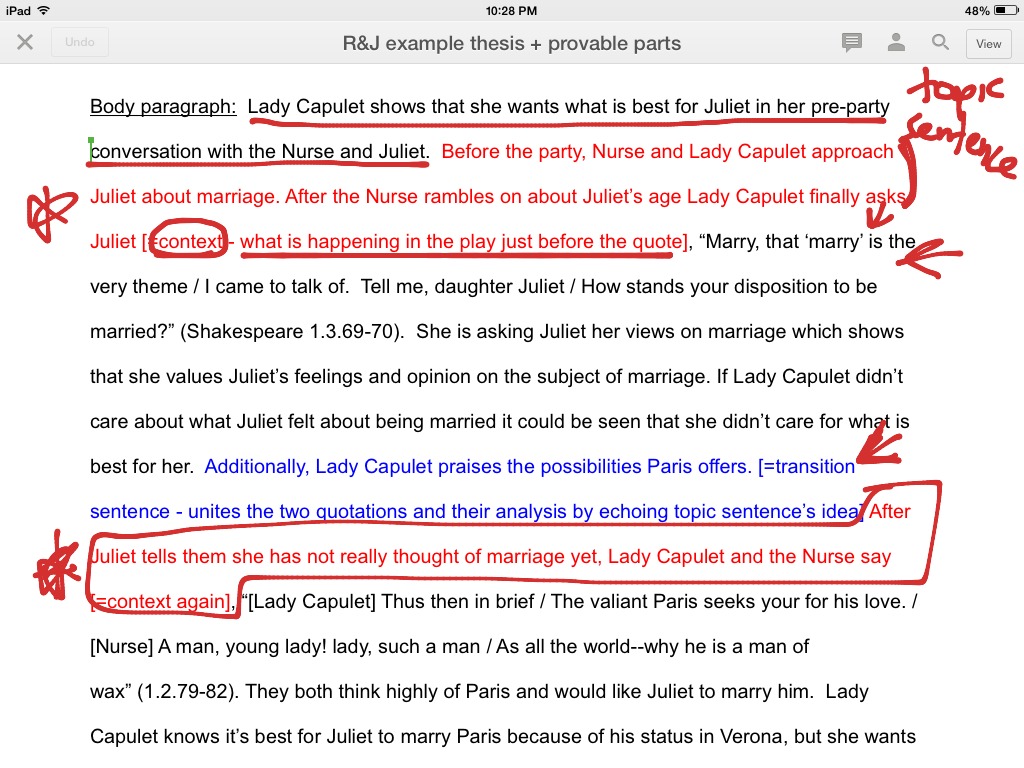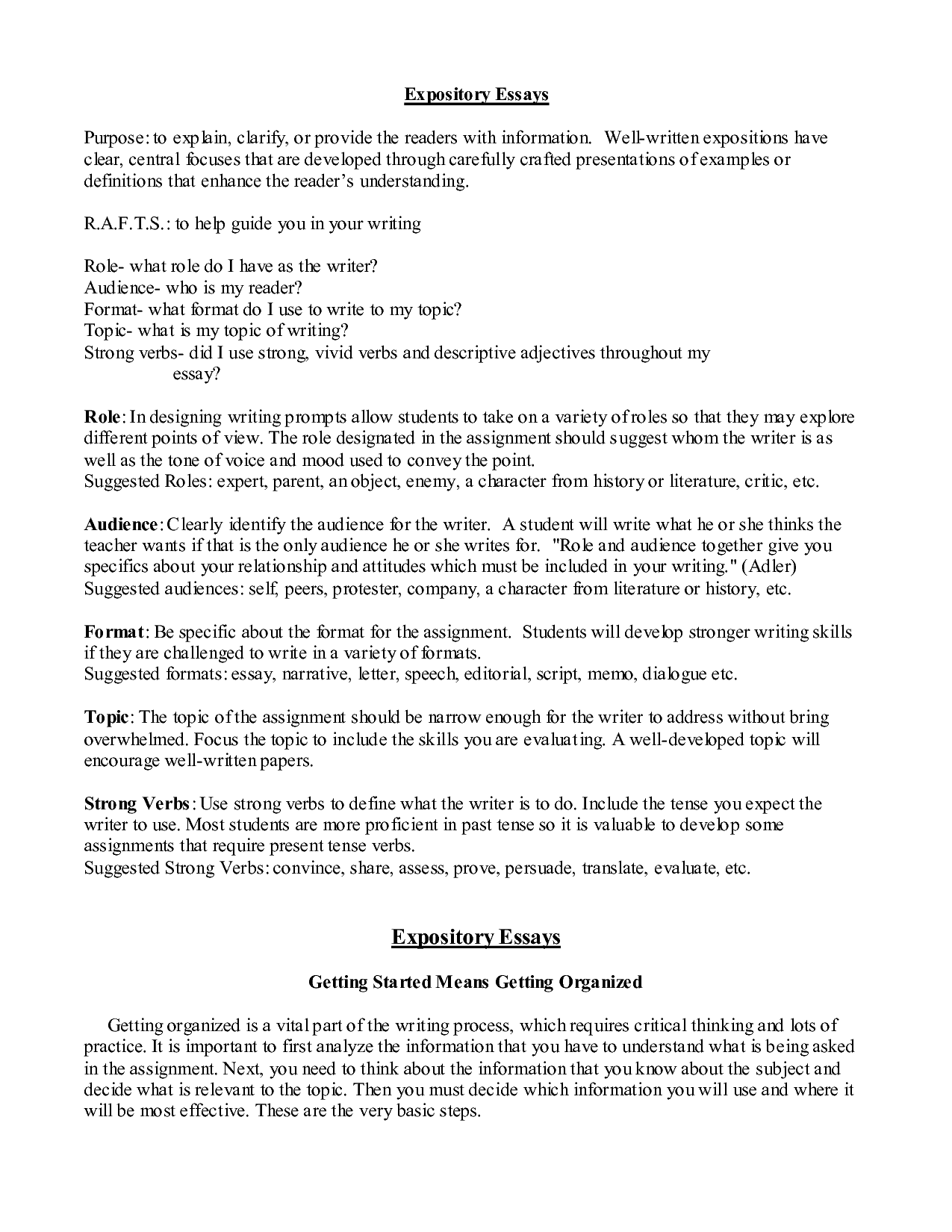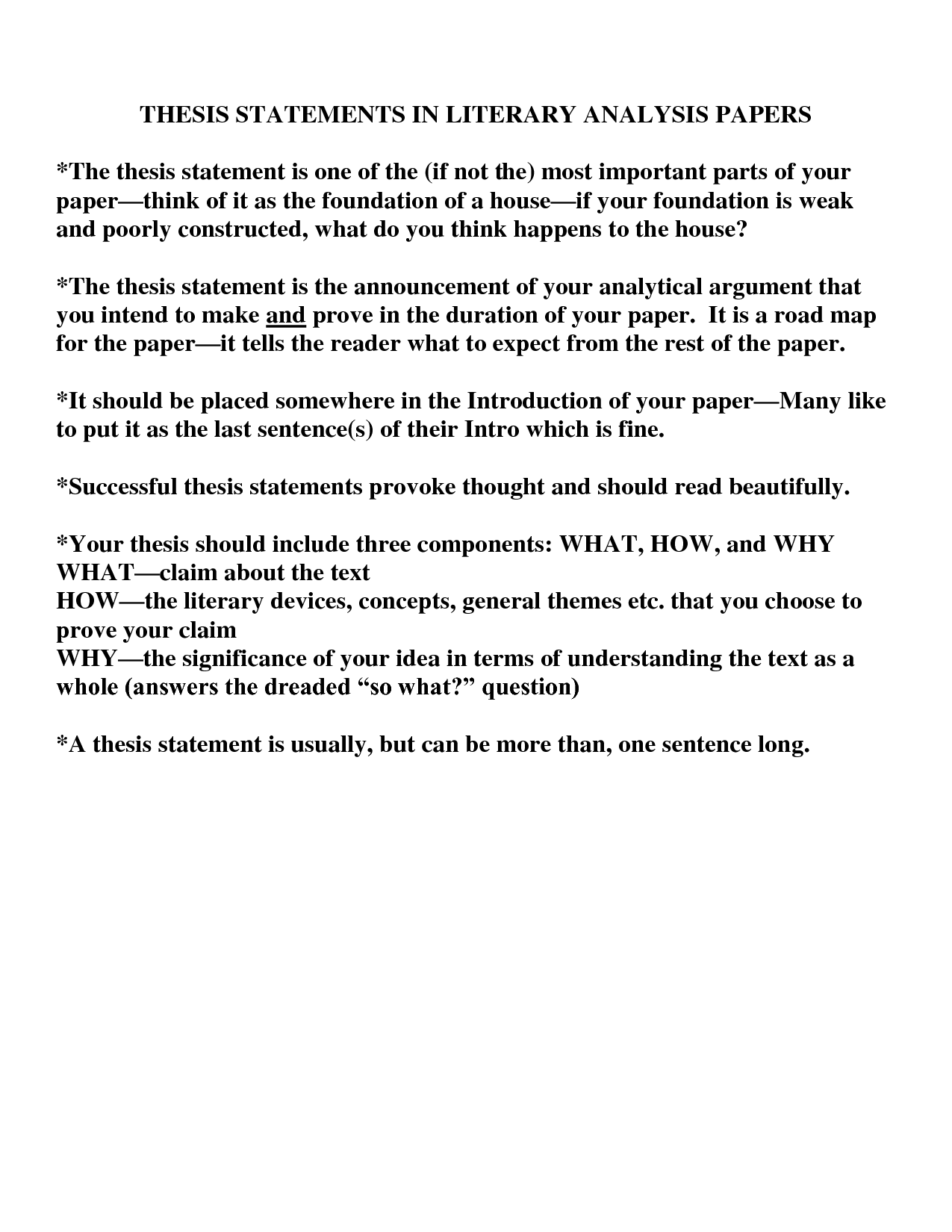 To be supported by evidence in your paper
Second of all, it's going to be supported by the evidence in your paper. That means that a thesis is more than just a tool for your reader. Normally thesis for the reader can be used as a way of understanding what you're going to be arguing.
For you, it can be used as a way of making sure that you are on target with your argument; that you are sticking to the correct path that you aren't, that you don't have whole paragraphs that are extraneous, or arguing something different, or introducing facts that don't really matter for your broader argument.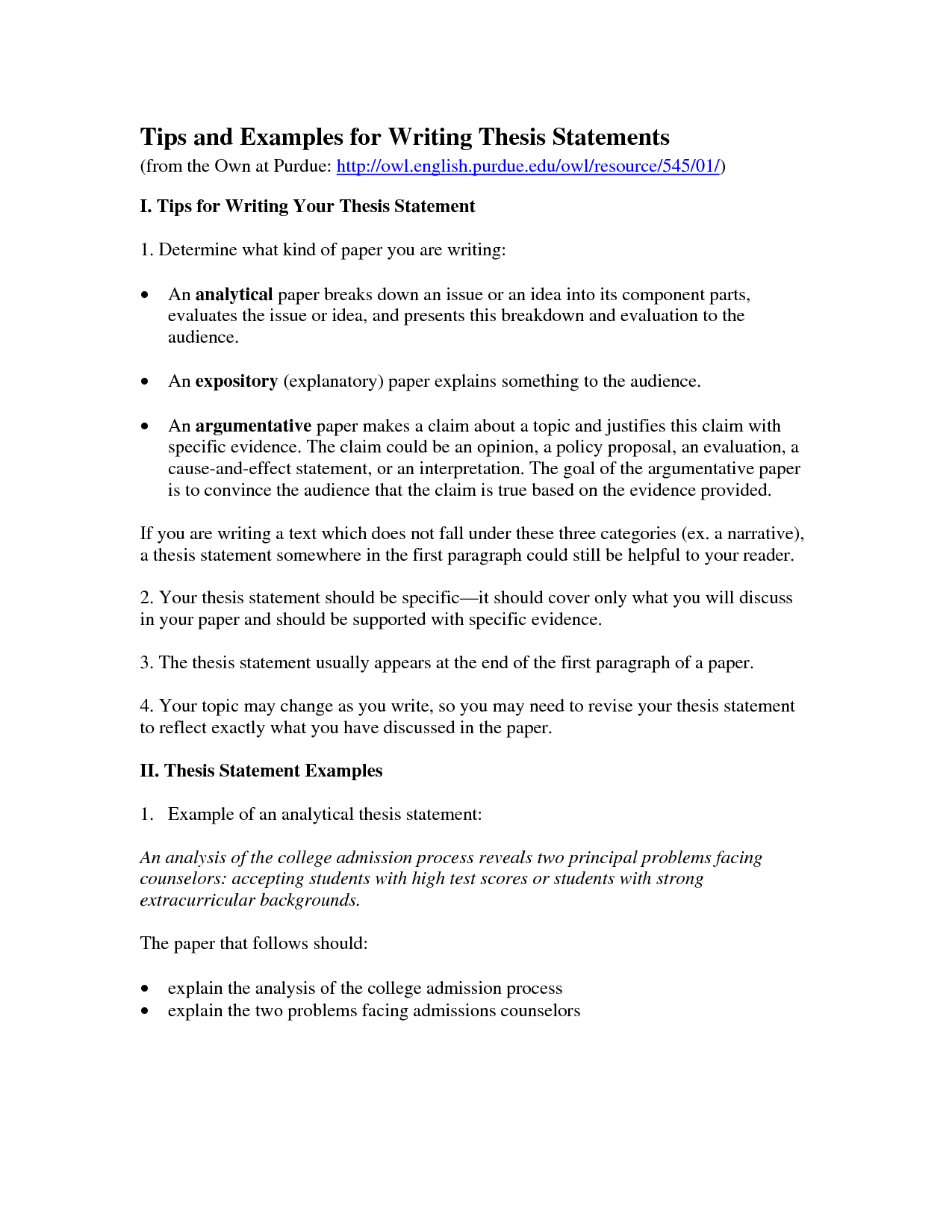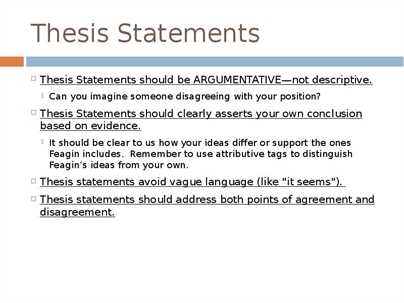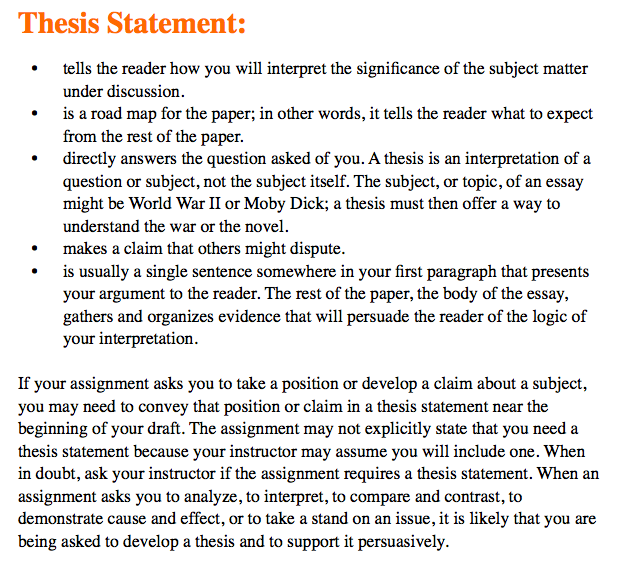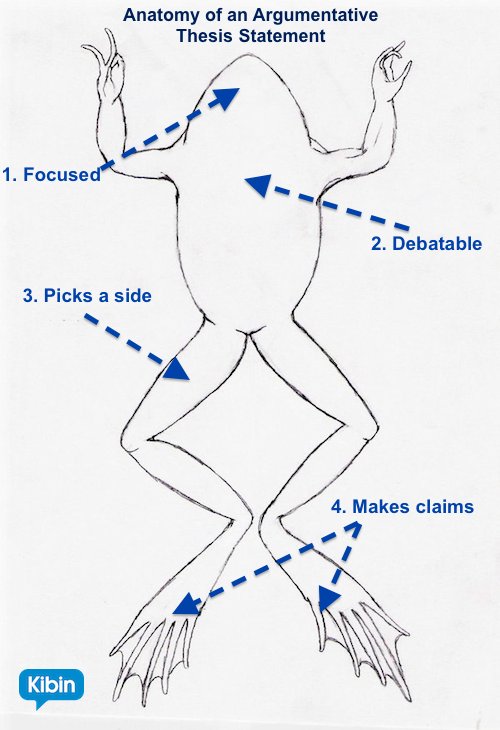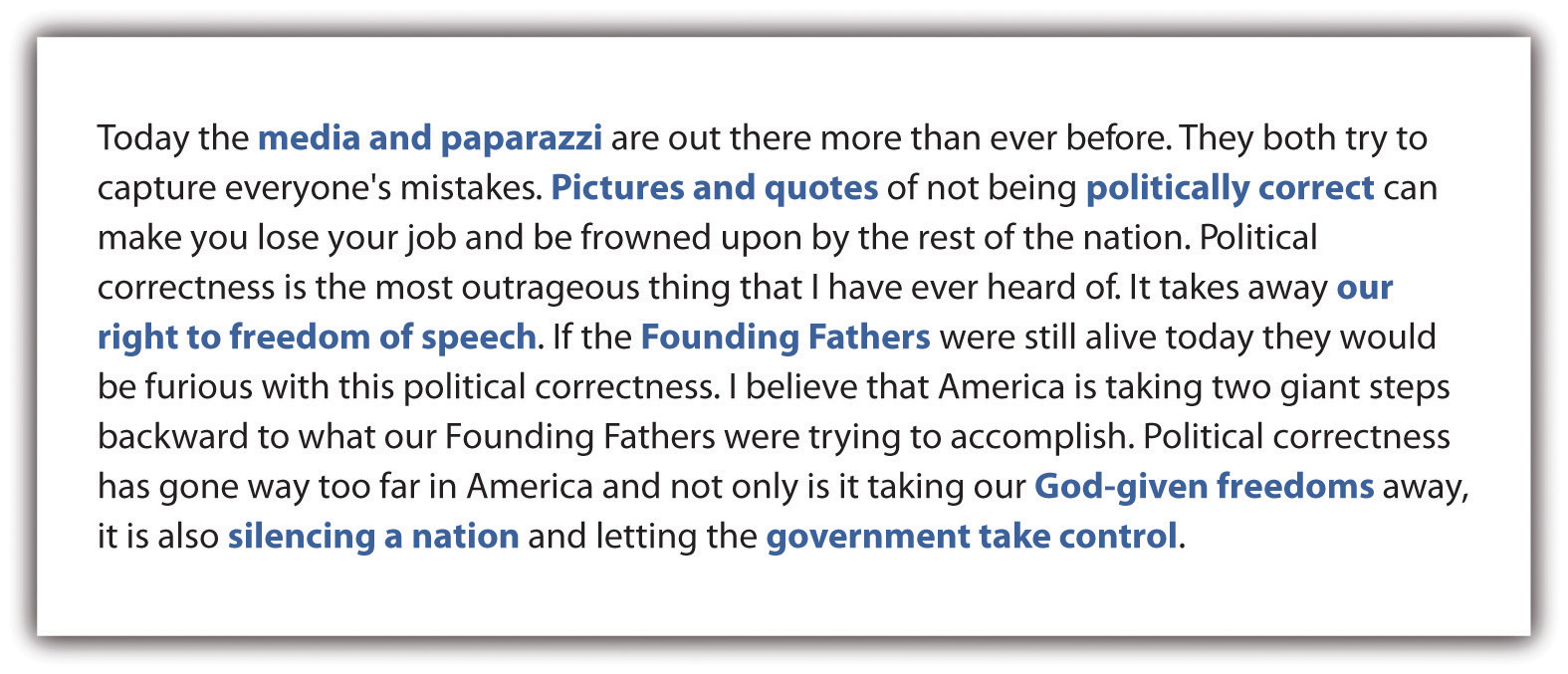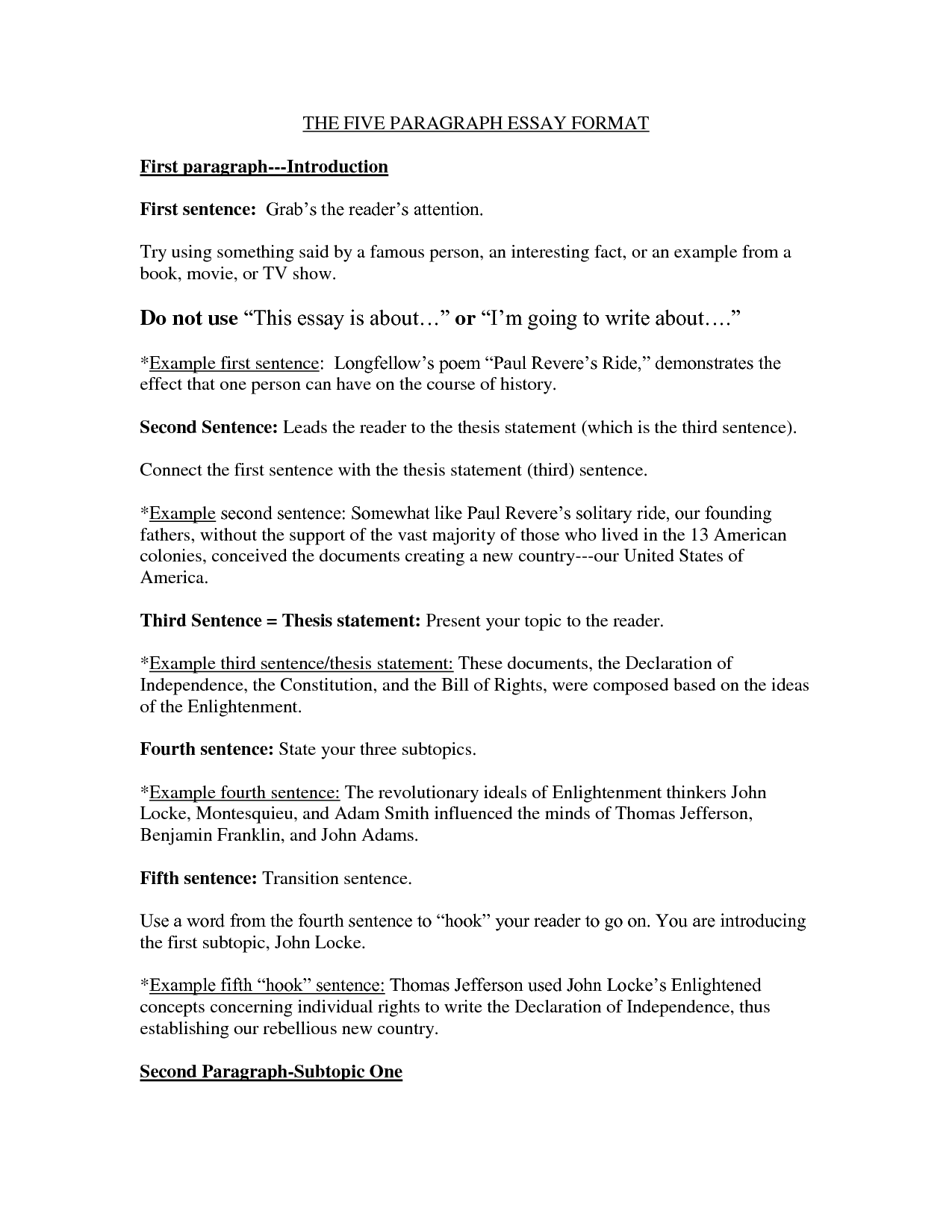 Usually located at the end of the Intro
And of course three and it's usually located at the end of the introduction.
This can be either an introductory paragraph, in most cases you'll run into as a starting student here at LCCC, or it can be a whole introductory section in a longer paper.
You might end up writing some more advanced papers that have an introductory section that's more than one paragraph, but the thesis still typically comes at the end of that introduction, and is, as I said, an indicator for the reader of where you're going to be going with your argument.
This might all still seem a little abstract, so let's look at a specific example.
Playing a musical instrument is good for children countless ways.
This is often the kind of statement that I'll see English 105 students presenting to me when they're working on the research papers. The research paper is an eight to ten page paper that you'll be required as an English 105 student to write. On the surface, this looks like a fairly strong thesis.
You do have a topic, playing a musical instrument, and you are making a statement about that, it's good for children. But it's actually not a strongly contentious statement. It's the kind a statement that there's enough scientific that playing a musical instrument is beneficial; that it's not the kind of thing that we can strongly contend or that someone can really effectively argue against.
This makes it kind of a weak thesis. What we have here is a broad sort of statement of generally accepted fact. There's not a lot of argumentation that can take place here. So let's add something a bit more contentious in.
Playing a musical instrument is good for children in countless ways, therefore we should increase funding for music programs in schools.
Now we have the statement of facts that you're going to research. So that's part of the research paper or, part of the point of the research paper, and then that is followed by a contentious argument: therefore we should increase funding for music programs in schools.
This can be much more Easley debated because now you're taking the scientific evidence is saying this alone is strong enough to support this kind of raising of funding.
Whereas someone else might say, well maybe the scientific evidence points this way, but that still doesn't justify the use of taxpayer money for this kind of program;
They can be argued back and forth.
And remember, this will come at the very end of your introduction. So this will all be part of your introduction, with your thesis statement at the end, and then everything that follows after that. From the first body paragraph on will be part of your argument to support this idea. Remember, a thesis is more than just a useful indicator for your reader or something that is helpful for your professor to understand your argument; it's good for you to understand your argument as well and make sure that you're always on the right track.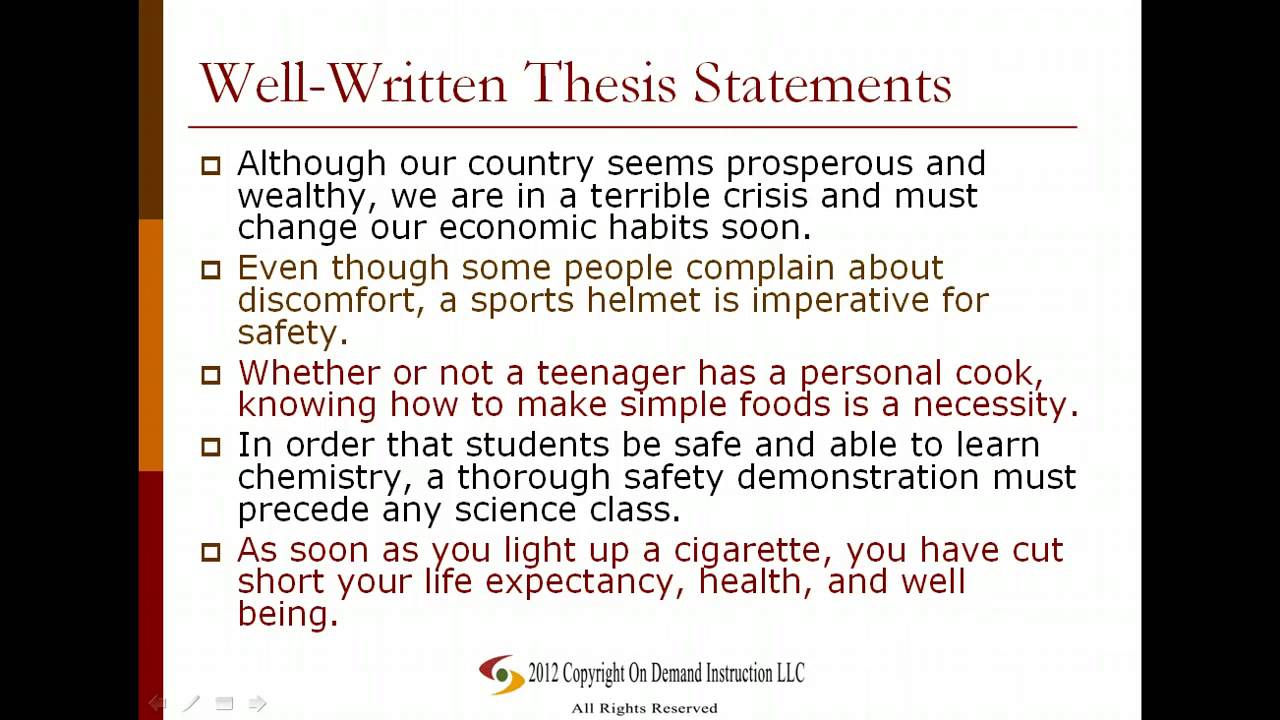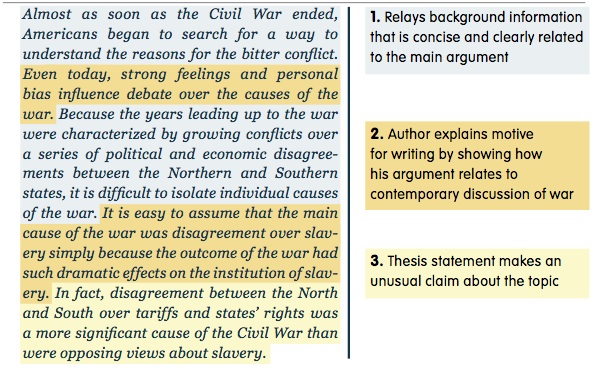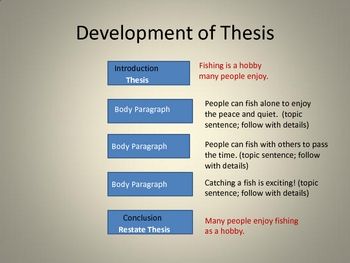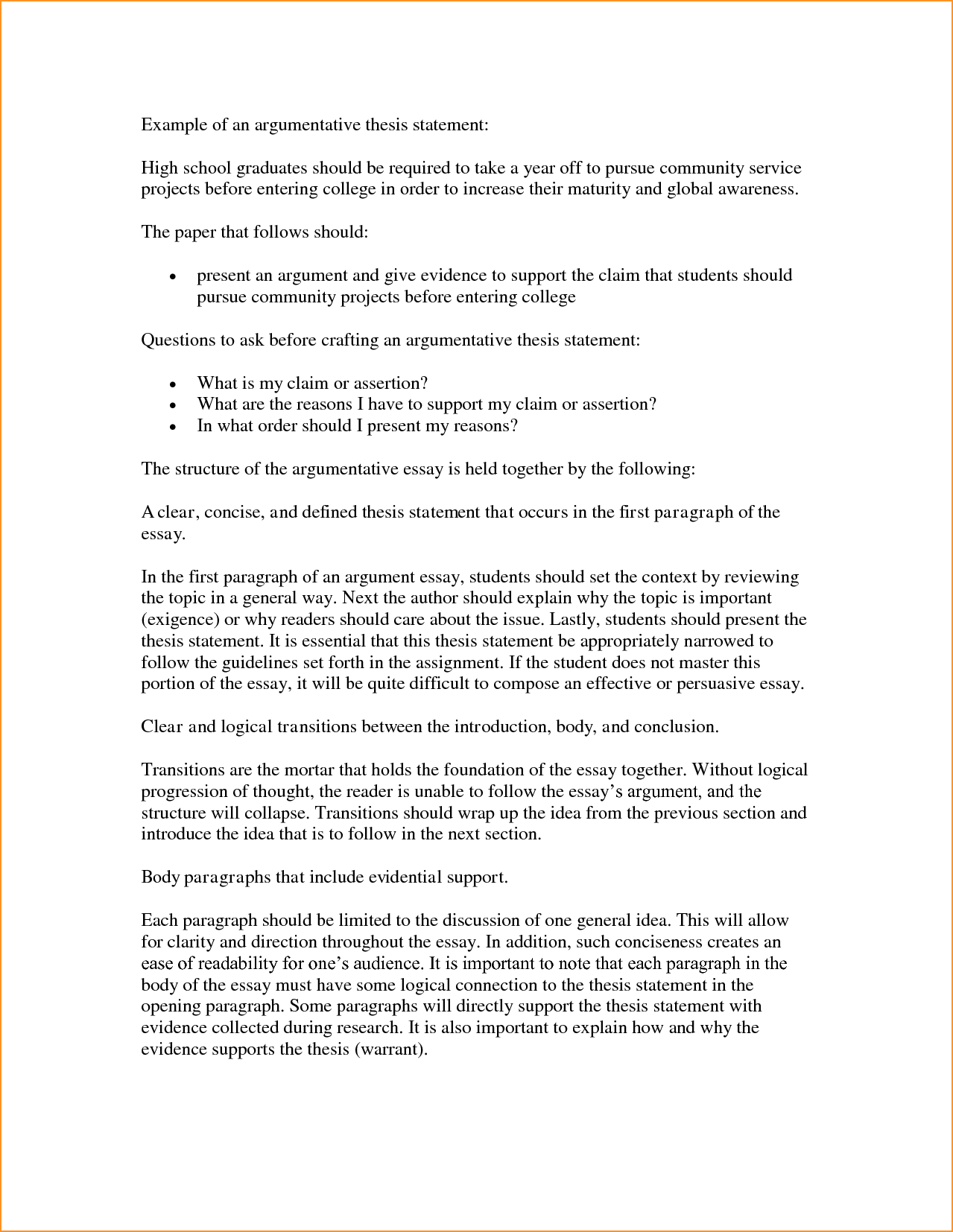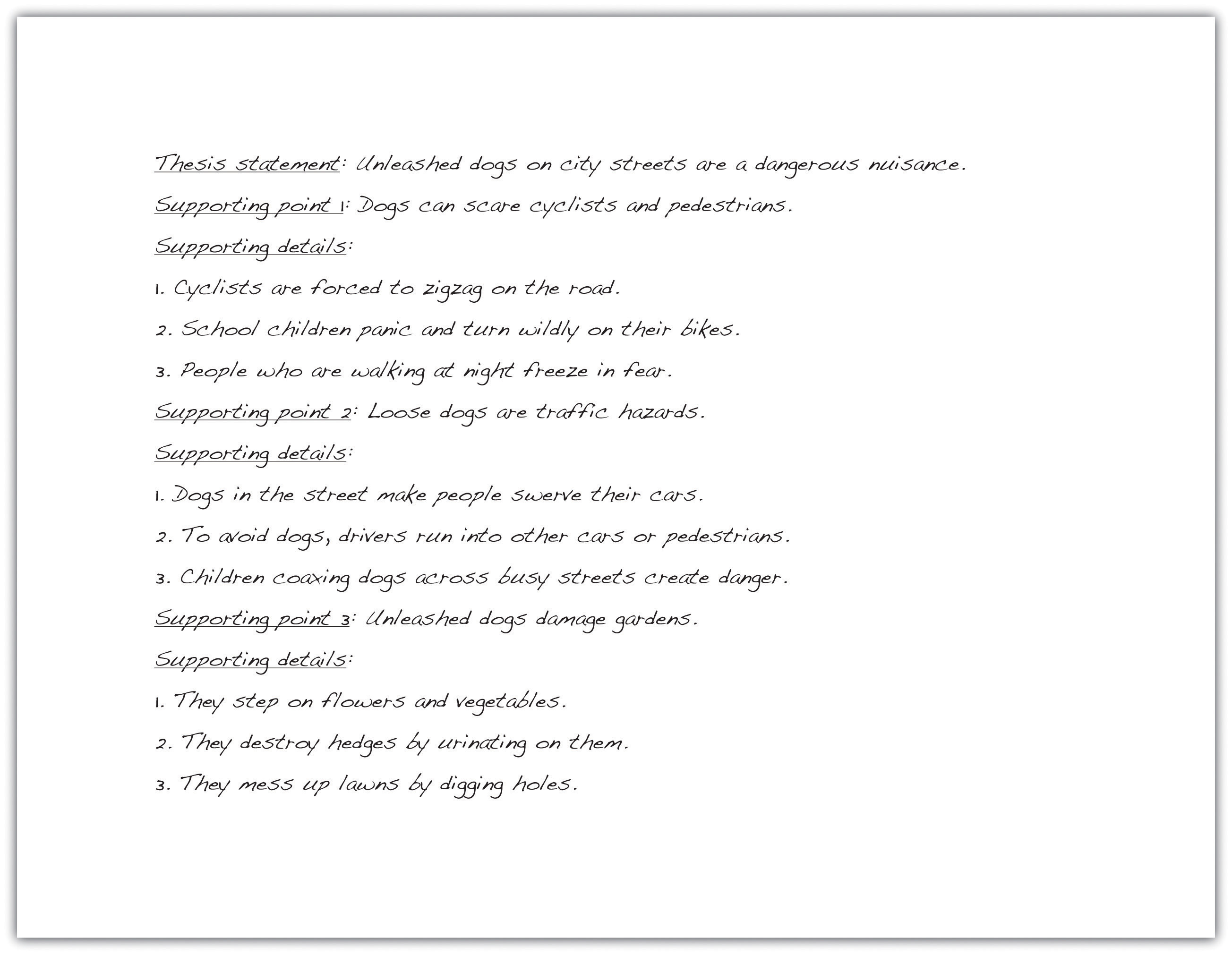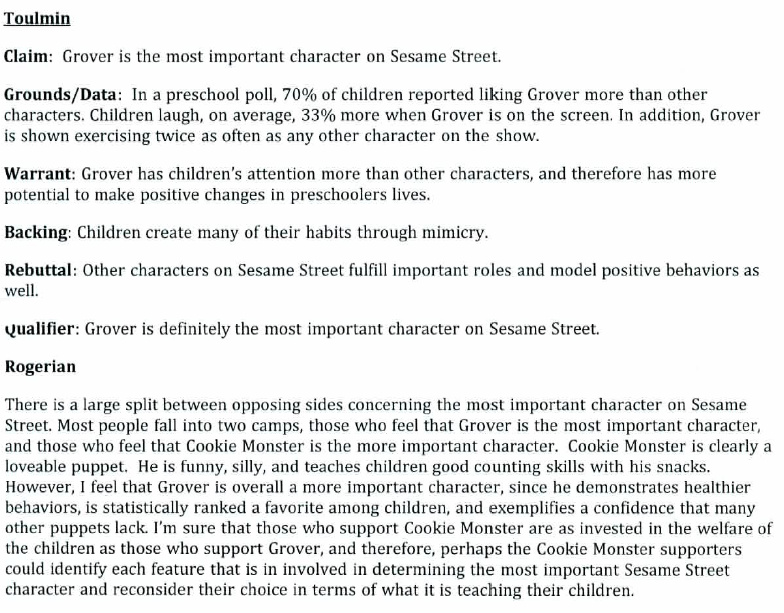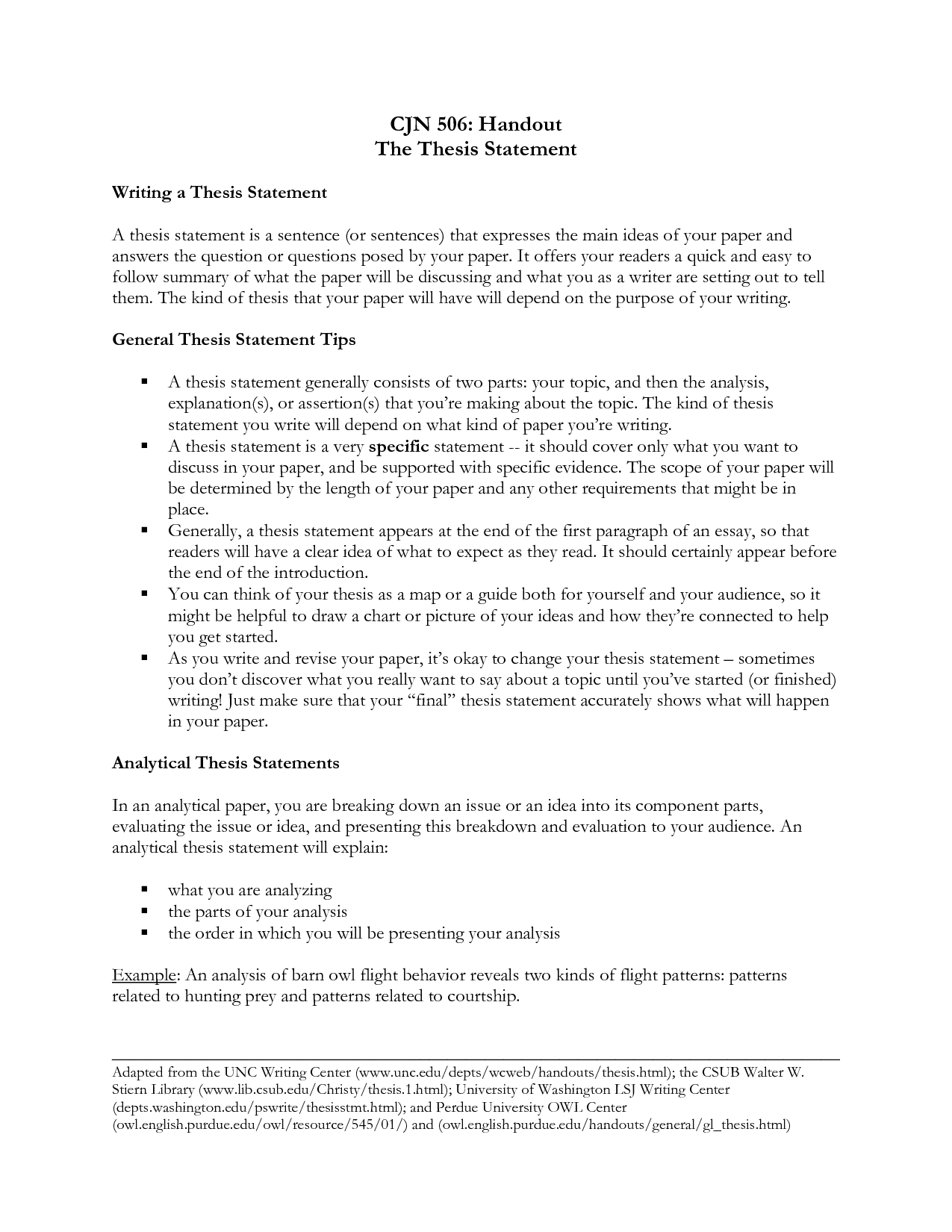 You might notice that this is, if you've been through the public education system in Pennsylvania, a little bit different than the thesis statements that you'll see on the PSSA.
A thesis statement for the PSSA typically follows the format:
We should increase funding for music programs in schools because playing a musical instrument helps children in math, helps them understand complex concepts, and helps them be a better person.
Those would be maybe some of our countless ways in which playing a musical instrument helps a student.
This is a good way of sometimes constructing a thesis, but is not the only way of constructing a thesis. And what's more important is the fact that you have an argument there and a general indicator of your topic, which is the same as what we have in this example.
Those parts, having those component parts, of topic, an argument, are much more important than following that kind of rigid, regimented format. So that's the research paper thesis. But some students go on beyond their 105 course to the 106 course which is our first literature course. And they say to me,
Well, I have a good understanding of how to write a research paper thesis but I just don't know what to do now that I have to come up with all this weird, literary analysis stuff.
What should I say about a book, or a novel, or a poem that actually counts as an argument?
The good news is that a thesis for a literary paper is very similar to a thesis for a research paper. You're just drawing upon different sources. Rather than drawing upon research evidence, you're drawing upon the stories, or poems, or plays themselves and saying, what is present in this text suggests this reading or understanding of this novel, or play, or story.
This is a common early example of the kind of theses that people write when they're first starting out their English 106 course. Emily Dickinson's poetry uses symbolism. Emily Dickinson was an early nineteenth century author whose poems did use a whole lot of symbolism to explore concepts such as death and loneliness and passion; all sorts of interesting things like that. She used a whole lot of symbolism in her poetry, which should give you a hint as to why, even though this sounds like a good literary thesis, it's actually not as strong of a thesis as we would like.
Emily Dickinson's poetry uses symbolism.
See, we've got our poet here, Emily Dickinson, her poetry; so that's our topic. And we've got our literary term, which a lot of English professors like you to be using in literary papers. They like you to show that you understand the terminology. But, what we don't have is an argument. As I just said, Emily Dickinson used a lot of symbolism; there's really no contention there.
No literary scholar is going to be looking at your paper and say, you know, I disagree…I don't think that Emily Dickinson ever used symbolism at all.
That would be absolutely absurd. There's no way that would ever happen in real life. So, unfortunately that means that we don't have a strong argument yet. We need to come up with some reason why the symbolism is important. So let's say Emily Dickinson's poetry uses symbolism to disrupt her audience's expectations and perceptions. So now it's not just that she's using symbolism;
Now we've got our topic:
Emily Dickinson's poetry. We've got our literary term, but now we have this whole explanation of why she's using that. And this is something that we can argue back and forth.
So I might say, well Emily Dickinson's poetry is really bizarre. There's symbols in there that you just would not expect to see; she uses words in surprising and shocking ways. So I think her symbolism is used to disrupt the reader, to confuse the reader, to make the reader rethink their position or understanding of certain things.
And another literary scholar could look at this and say, that's absurd; that's ridiculous. Her symbolism is totally understandable if you have read enough of her poetry, understand enough about her life; if you have studied her for many years you can understand each one of her symbols and they're not meant to disrupt; they are meant to evoke, an admittedly very unique worldview, but one that is certainly consistent and comprehensible.
And we can argue this back and forth and debate, often through papers because English scholars will find any reason to write a new paper. But we can debate this back and forth which makes it a strong thesis. And just as before we have now our introduction with our thesis of at the end, and then everything in the paper. Even though it's drawing from poems rather than scholarly articles, it's still ultimately going to be used to support that thesis, which means not just summarizing what's in the poem, but explaining why what's in the poem reinforces your argument.
To summarize a thesis statement is a concise summary of what your argument is. It is an argument; it's an arguable statement that can be contended by another reader. It comes at the end of your introduction, and introduces both for yourself and for your reader what you are trying to prove in the paper.
Everything that falls in the paper should, in one way or another, refer back to and support that thesis statement.