A resume is the front line attack in any job hunt. It opens doors, which in turn lead to interviews. A well-written resume should put you in a good strategic position for an interview. It should leave the reader eager to meet you and learn more about your experience. This is the kind of resume that result in job offers.
Your resume creates that all-important first impression and makes a prospective employer want to interview you. More than simply opening a door, it's often your foot in the door.
What Does a Resume Do?
A resume is first and foremost a selling tool. You need it to show you off to advantage to prospective employers, to demonstrate what you've done in past jobs and what you're capable of doing in future ones.
Who Needs a Resume?
Just about everyone needs a resume. Some companies won't even consider you for employment without first looking at your resume. Others don't require one, but your chances of getting an interview are greatly enhanced by one. Virtually all management and administrative positions require a resume, as do professional and academic jobs, and many clerical and secretarial jobs.
Even persons who may think they don't need a resume can benefit from using one. It's rare person whose job-hunting prowess isn't enhanced by the use of a carefully prepared resume. Consider, for example, my friend Jeanette. She decided to support herself by working as a restaurant hostess while she studied acting, her true vocation.
Not surprisingly, she soon learned that her appearance and demeanor were her ticket to a job interview. Jeanette simply showed up, a restaurant owner either liked her looks and manner or didn't. If she did, Jeanette was generally hired on the spot. That's the way it worked, that is, until the recession set in. Then competition got fiercer, and Jeanette found herself having to scramble for work for the first time.
Looking for a way to set herself apart from the crowd, she took a friend's suggestion and wrote a resume. She didn't mail it out in the usual way but carried it with her on her rounds and insisted on leaving it behind even when there was no job at the moment. After a few frightening weeks of being without work, she got a call from a prestigious restaurant she had visited two months earlier. They hadn't had an opening then, but they had one now-and they had used her resume to locate her. It was one of only three that had been left with them, and hers was the most impressive of the lot.
What is The Most Important Part of a Resume?
No one thing is "most important" about a resume, but it must be impressive in order to do its job. Keep in mind that 99 percent of the time your resume will arrive at a prospective employer's door before you do. In effect, this means that your resume makes your first impression for you. It must be neatly typed. It must not contain a single misspelling or typographical or grammatical error. It must contain all the information that is necessary to excite a prospective employer's interest. The information must be arranged so that it is logical and consistent. It will help if your resume is visually appealing, something that is easier to accomplish in these days of desktop publishing.
Remember, your resume is your front-line selling tool. It must present you as a serious job candidate with important qualifications and skills to offer an employer.
What Goes Into a Resume?
A resume contains a certain amount of basic information. Although this information varies from person to person, several categories are standard in any resume:
Your name, address, city, state, and telephone and fax numbers where you can be reached.
A job title or an objective, if-and this is a big "if" – you need one.
A detailed record of your employment history.
A detailed record of your education.
Your computer skills.
Any languages you know.
Anything you have published, either magazine or journal articles or books, if this is pertinent to the work you do.
Any relevant professional memberships.
A record of your military service, if it's relevant to your present work.
This is the maximum number of items that would appear on a resume. Few persons need to use all these categories. Knowing which ones you should choose is part of the knack of resume writing.
Let's take a look at each these items in greater detail.
Name, Address, Phone Numbers
Your name, address, city, state, and telephone numbers may seem too irrelevant to mention, but this information is vital-and too often forgotten. The personnel director of a Fortune 500 company once told me of his frustration at receiving the perfect candidate for a very high-level management position-only to discover that is contained no name or address.
Failing to include your name and address is a fatal mistake-no one can call you or write you to tell you that you omitted it. Also, it is important to include your zip code and telephone area code if you will be applying for jobs out of your state or community. And these days, fax numbers are showing up on resumes as well.
Deciding what telephone number to put on your resume can pose a problem. Obviously, you will not be in a position to take many calls about job possibilities while you are at work. In fact, some prospective employers will become suspicious about hiring someone who can talk for hours during the workday. Possibly the best solution is to list your present office number and your home number, and then count on the discretion of anyone who calls you.
When you are called during the day, keep the call as brief as possible and ask if you can call back during the evening or your lunch hour. No one expects you to jeopardize your present job for a future one, so most prospective employers will be understanding and cooperative about making arrangements for you to call back. Also, the presence of your home phone indicates that you can be reached after work hours. Most of the callers responding to your resume will be prepared to save most of the talking for the interview and will expect only a brief telephone conversation to set up the interview, particularly if they have called you at work. As for that fax number, don't use the office fax machine. They rarely provide you with any kind of confidentiality. If you don't have a fax machine at home, most shops that send faxes will also receive one for you-for a fee, of course.
Job Objective
If you are hoping to make a sizable jump in responsibilities, a job objective may work for you. A job objective also works well for a college graduate seeking an entry-level position. It should be used, in short, when you feel you would like to do a little more explaining about your needs. A job objective can be vague or specific, depending upon your goal. If, for example, you are job hunting in a favorable job market, you may want a fairly open, vague job objective that will cause employers to consider you for a variety of jobs.
In a tight job market, you'll do better to write a more specific job objective –one geared exactly to the job you're going after. Specialists and highly trained technicians also do better with a specific job objective. If you fall into this category, the range of work you do is well defined, and there is little point in leaving yourself open to positions that you have no intention of filling.
Equally important, not every resume must have a job objective. Don't hesitate to skip it if it doesn't work for you.
A job objective should be clearly labeled as such. It should be concise and definitive and should never run more than three or four lines. This short blurb is so important, however, that it may take hours to write. Here is a sample job objective for a laboratory technician:
Job Objective: A position as a senior technician with a middle-sized chemical or drug firm where I can continue my research in cancer.
A teacher's job objective might look like this:
Job Objective: To work with grade-school children in a creative social sciences program in an experimental school.
A nurse's resume might carry this job objective:
Job Objective: Employment in an outpatient clinic that emphasizes family and group counseling.
A new business school graduate might cite the following objective:
Job Objective: A mid-level managerial training position with a bank.
Employment Record
After the job title comes your employment history. There are several ways to write this, depending upon the type of resume format you choose. You can begin with your most recent job and work back to the first, or first relevant, position. Or you can describe the work you have done or your accomplishments in one section and give a brief chronology in another section. The latter is a technique favored by managers and administrators and, ironically, persons who are looking for a first job—in each case, experience is what counts most, and so your achievements are put right up front.
Your resume must include the dates of your employment. If it does not, many personnel workers will toss it out. Also, if possible, give the exact dates of each employment. Include the days if you can, but definitely give the month and year, or the years alone if you have worked for many years. If one item is consistently checked on a resume, it is the dates of employment, and it is not worth the risk to misrepresent them.
If there are gaps in your employment record due to illness or unemployment, don't try to cover them up. Simply skip these years on the resume and explain them honestly if they are brought up during an interview.
You need not give a description of every job you have ever held, particularly if you have worked for a long time. As you gain more experience, list only the jobs that are relevant. A prospective employer reads a resume to see what you have been doing, not where you have been doing it.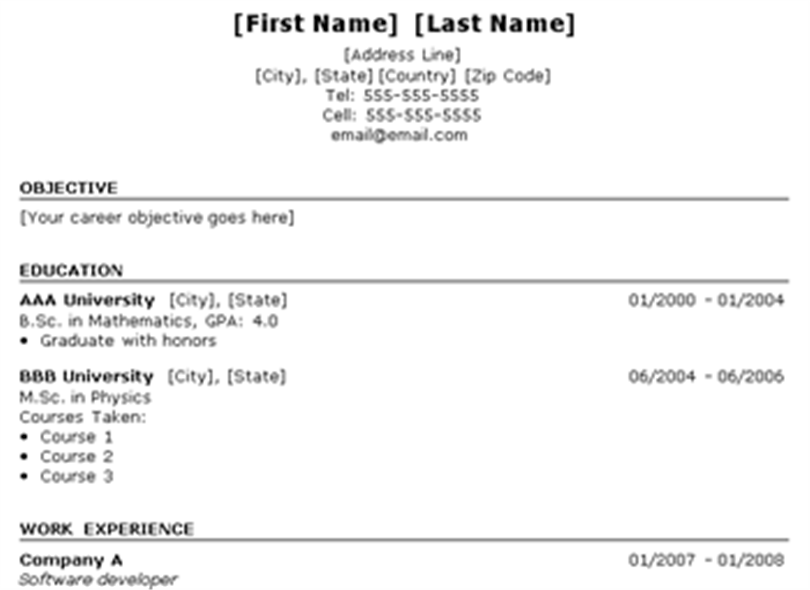 Education
After your employment record comes your educational background. If you are a professional, begin with your most recent education. If you stopped attending school after high school, list your high school.
A good guideline in describing your education is to give the most details about the schooling that most directly applies to the position you hope to obtain. A university graduate with work experience need not mention his or her high school on a resume. As a new college graduate, if you feel comfortable listing a high school or prep school because it might be a way of making connections, you may include this for a year or so. But as soon as you have some solid work experience, drop the reference. Far more important are your academic credentials beyond high school. A graduate of a vocational school should give the greater share of space to describing his vocational training and should not include many details of his high school education.
Generally, begin with your most recent educational experience and work your way backward in time.
With only a few exceptions, don't mention minor academic achievements. Valedictorians and salutatorians can ride the coattail of their achievements (for a few years after school, at least) as can anyone who graduated cum laude or was Phi Beta Kappa, but all others should skip the reference. Saying you graduated 21 or even 7 or 4 out of a class of even 300 may not turn out to be so impressive when the competition gets really tough.
One exception to this are law-school graduates, who typically do mention their class standings on their resumes. But even so, if your class standing works against you, you should conveniently "forget" to include it.
Similarly, any mention of most other school honors, organizations, and extracurricular activities are out of favor these days on resumes—the only exception being perhaps brand-new graduates who are understandably seeking to make any connection they can. But as you gain genuine professional experience, these lesser references should be dropped.
It is okay-and even helpful-to mention any continuing education courses, seminars, workshops, and other post graduate, career-related educational activities you've under-taken to enhance your overall skills.
There is one exception to the general rule about not mentioning high school if you've gone to college, and it's this: If you went to Podunk High School and then managed to make the leap to an Ivy League or some other very good college, this is an achievement worth noting—for two or three years after school, at least.
Similarly, persons who went to a lesser college and then made the leap to a much better school for graduate studies often make the mistake of dropping the lesser school from their resumes. But it's better to include both, and let the contrast work for you—which it almost always does.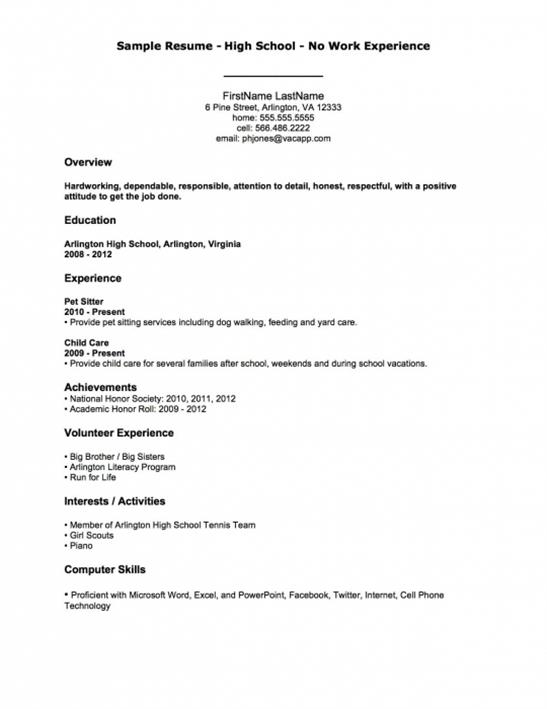 Computer Skills
Today, computer skills are important in almost every line of work, so they belong on a resume—in a separate category. Employers report that they like them specific. They want to know whether you work with Lotus 1.2.3 and whether your WordPerfect skills are 5.0 or 6.0. After all, "desktop publishing" says little without a tagline explaining exactly which software programs you know how to use. Using the expression "computer expertise" is even worse since it can mean anything—or nothing.
Languages
After education, note any languages that you know and the level of proficiency. Never exaggerate your level of expertise. "Fluent" means you speak as well as a native speaker.
Publications
In some fields, notably academia, published works are important, and everything you have ever published is included on your resume, or curriculum vitae, as academic resumes are called. Academic resumes often run on for pages, longer than those in any other profession. For everyone else, though, it is far better to state that you have published x number of articles. List only the more impressive publications in which your work has been published. A good stylebook, such as the Chicago Manual of Style, can help you edit your publishing bibliography into a consistent form.
Professional Membership
Mention only those member-ships that are directly relevant to your work skills. Community or church participation are no longer considered pertinent items to include on a resume. Do not go into great detail about these activities, or you may give the impression that your after-work activities could cut into your work hours.
Military Service
This is no longer required on a resume, perhaps because relatively few persons have served in the military, after so many decades of relative peace. Still, there are times when your military service should appear on your resume.
One, of course, is when you've just been in the military and are now seeking a job in the private sector. Then all your work experience in the military is probably relevant to the kind of job you're seeking now. The other is when even brief military service provided you with some kind of specific job skill that's important to your present work.